Lingua Franca World Community promotes understanding and exchange between ethnically diverse communities through education and sharing traditional arts and cultural practices.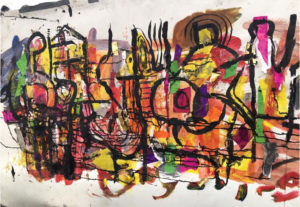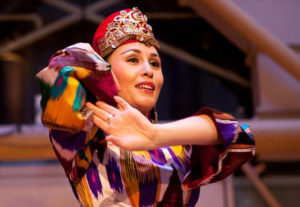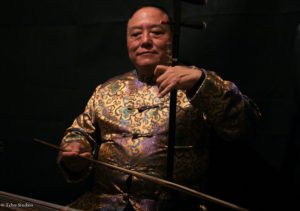 HISTORY OF LINGUA FRANCA WORLD COMMUNITY CIC
The company was originally established under the name of Lingua Franca World Music Community on 30 November 2010 as a vehicle for a funding application to Arts Council England relating to the Cultural Collage World Music Festival, a multi-venue celebration of the arts of the diverse communities of Manchester which took place in the city centre and beyond between 2010 and 2014.  It did not trade actively between 2014 and 2016 and underwent the name change in January 2017.
Our current directors are Geli Berg, Kanchan Maradan and Pat Mackela.  We are all artists in our own right and each of us represent one of the diverse communities of Manchester. We are always seeking new directors to represent other communities of multi-cultural heritage.
LINGUA FRANCA WORLD COMMUNITY CIC DIRECTORS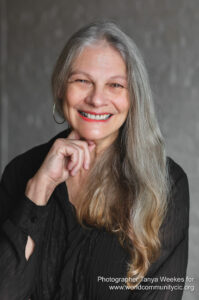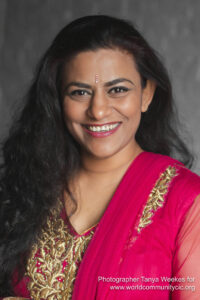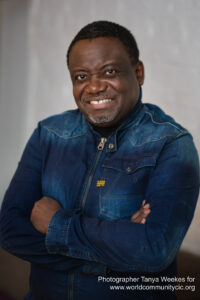 Managing Director Geli Berg is a writer, world music specialist, DJ, event producer and broadcaster.  Geli was born in the UK, but is of mixed heritage, which has fuelled her interest in diverse cultures.
Kanchan Maradan is a professional Kathak dancer who has been an empanelled artist with ICCR (Indian Council for Cultural Relations) since 2004. She is also a Member of The International Dance Council of UNESCO.
Lugemba (Pat) Mackela is an accomplished drummer, broadcaster and Community Leader from the DR Congo.  He has recently graduated from the University of Central Lancashire with a degree in Community Development and is currently studying for his MA.
THE GINNEL GATHERING (2017)
The Ginnel Gathering was a one-day festival, curated by Lingua Franca World Community CIC, which took place in the Henderson Street neighbourhood in Levenshulme, UK on 31 July 2017 (UN International Day of Friendship).
Nine ginnels (alleyways) cross the streets in this diverse and creative location. Some are gated, some contain communal rubbish bins, most were dumping grounds which attracted foxes and rats. There was little council funding available for more gates – hence our festival idea.
Residents came up with themes for ginnel-based events and we raised money to make these happen in seven of the ginnels. We trained the resident-producers in event organisation to raise their skills.
One of the Resident Producers, Rachel Graff, nominated us for a Manchester City Council Be Proud award for Bringing Communities Together and we reached the finals!
A TASTE OF WORLD DANCE (2011-2012)
An integral part of the Cultural Collage World Music Festival, A Taste of World Dance took place at Manchester's Dancehouse Theatre and z-arts.  It was a programme of cultural dance workshops run by professional dancers and included Congolese Soukous, Caribbean Soca, Cuban Salsa, West African ballet and Kathak from India.
CULTURAL COLLAGE WORLD MUSIC FESTIVAL (2010-2013)
The Cultural Collage World Music Festival grew out both the radio show and our associated project the Lingua Franca World Music Agency.  It was produced a showcase of professional diverse cultural performers of world music and dance in Manchester.  The venue-based festival included performances in the city's high profile venues, including The Bridgewater Hall, The Royal Exchange Theatre, Band on the wall and St Ann's Church.  There were also events in the outer suburbs, including Didsbury, Salford, Prestwich and Rusholme.  In 2011 and 2012, the project was funded by Arts Council England.
THE CULTURAL COLLAGE RADIO SHOW   (2005-2014)
The Cultural Collage radio show ran for 11 years on ALL Fm Community Radio in Manchester.  It was a weekly two-hour magazine programme produced and presented by Lingua Franca World Community Director, Geli Berg.  The programme explored the diverse cultures of Manchester, including interviews, performances, discussions, audio documentaries, features, listings and competitions.  Our final production team consisted of 12 people from different cultural backgrounds.
SOUNDING THE SIRENS (2020-2021)
Our latest project is focusing on our female associate performers – namely three of our female singer-songwriters:  Geli Berg, Tiki Black and Sarah Sayeed.  
Thanks to Arts Council COVID Emergency Funding, each of the three singer-songwriters were commissioned to write two songs each and then select mentors and musicians from Lingua Franca World Music Agency to bring them to life!
The idea was to keep everyone working at a time when we had all lost performance opportunities due to lockdown.  Links to three of the songs are below and we expect to release audio tracks in February 2021.
That Day That You Left – Geli Berg
Home – Tiki Black
Endless Conversation – Sarah Sayeed
LINGUA FRANCA WORLD COMMUNITY PERFORMERS        (2005-Present)
Lingua Franca World Community Performers, is the new name of Lingua Franca World Music Agency, which was incorporated into our organisation from 1 April 2021.  We are a collective of professional diverse musicians and dancers living and working in North West England.  
Please check out our new website www.worldcommunityperformers.org
WOMAN OF MY DREAMS (2019)
Lingua Franca World Community CIC was delighted to partner up with award-winning scriptwriter, Rashida Mustafa and HOME Manchester for a script-in-hand production of Rashida's exciting new musical "Woman of My Dreams".
Lingua Franca Managing Director, Geli Berg, produced the show alongside Rashida, and played one of the lead acting roles.
The initial showing of the production, which addresses the social and sexual issues provoked by cultural practices of female circumcision (FGC), was made possible thanks to funding from Arts Council England.  It took place on 28 January 2019, to an invited audience as part of HOME's PUSH Festival, an annual celebration of the North West's creative talent. 
The show was followed by a Question and Answer session and debate amongst an invited audience of FGC specialists, academics, legal experts and others.  The resulting research will be used to develop the future full-length production of the piece.
THE WORLD MUSIC BUS TOUR (2013 & 2019)
This exciting project was the brainchild of Managing Director Geli Berg who worked with Manchester Tour Guide, Emma Fox to produce the tour.  The two-hour tour takes in seven districts of Manchester and combines a running commentary about the various cultures living in the areas with an introduction to the traditional music within the locations and and to performers who live there.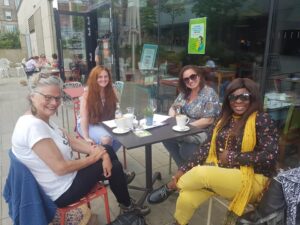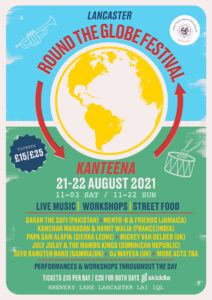 OLDHAM GLOBAL CREATIVE COMMUNITY
This is a new networking group for professional and/or enthusiastic diverse creatives living in Oldham and surrounding areas.  It has been funded until the end of September by Comic Relief and the Greater Manchester BAME Network.  Everyone is welcome.  We meet weekly to share ideas and come up with projects and collaborations which we hope will make Oldham and even better place to live!  If you'd like to join us, please email geli@worldcommunitycic to request a Registration Form.
LANCASTER ROUND THE GLOBE FESTIVAL @ KANTEENA
Kanteena and Lingua Franca World Community CIC are excited to announce our very first collaboration – the inaugural Lancaster Round the Globe Festival!  Get your tickets here!
The festival will take place from 11am on Saturday, 21 August and Sunday 22 August 2021 and will feature a full programme of music, dance and workshops from a diverse range of performers who are popular on the national and international world music circuits, including Saturday Salsa headliner, July Julay & The Mambo Kings and on Sunday, Gambian musician Sefo Kunateh and his band on their current album tour!
Secure your tickets now at  Around the Globe Tickets | Kanteena Lancaster | Sat 21st August 2021 Lineup (skiddle.com)
Contact us for more information
Lingua Franca World Community CIC
Registered Office
83 Ducie Street
Manchester
M1 2JQ
Mobile: 0044 7816 648 288
Email:  geli@worldcommunitycic.org
Lingua Franca World Community CIC is a company limited by guarantee with social aims.  Company No: 07429854